Passion For Genealogy is reader supported. When you use and buy through links on this site, we may earn an affiliate commission.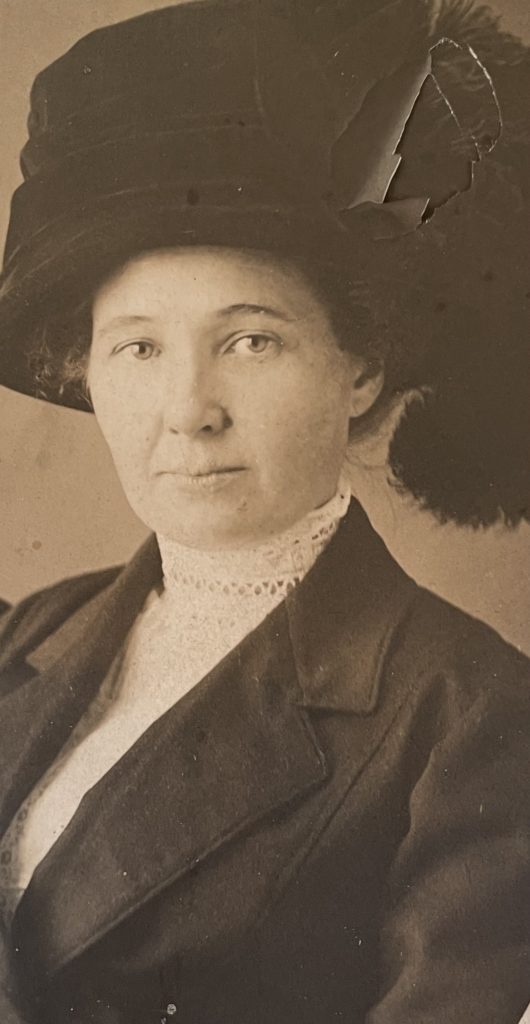 Lottie's Family History Story Begins
Love a good family history story? The Curious Case of Lottie Seed Pepper is a true genealogy mystery that keeps you in suspense!
This is a family history story I wrote about my great-grandmother, Lottie Seed Pepper. I knew very little about Lottie before I started researching this family tree. The only things I had learned about her life was told to me by my grandmother, Inez Somers Pepper, who was her daughter-in-law. According to Inez, Lottie's married life was hell. She was confined to her home by her husband, Floyd Hiram Pepper. Although bearing eight living children; she was sad, lonely individual who put her family above everything. Even after her death she appears forgotten.
Two years ago, my siblings and Uncle traveled to Evergreen Cemetery, in Detroit to honor her grave. After obtaining a map from the cemetery's office we attempted to find her grave, but without much success. After contacting a cemetery official, the grave was discovered under many layers of dirt. We then cleaned and had it remounted for future preservation. Lottie deserved so much better from her family. By writing this article, I thought to expose the truth about her troubled past and better understand my family history story.
Detective Work To Find My Family History Story
It is my belief that many family historians are failed mystery writers. Our work is all about digging around and uncovering all sorts of fascinating things in our ancestors' lives. The idea that we may stumble across a juicy story titillates us to our very core. In my particular case, I didn't have to look very far to find a family history story which intrigued my ancestors for decades. With a newspaper clipping to go on, my great-grandmother's story was aching to be revealed.
My great-grandmother, Lottie Seed Pepper was born in Adelaide, Middlesex County, Ontario on 26 Sept 1880. She was next to the youngest child born to David Seed and Mary Adair. Her parents were of Irish descent and the first generation born in Ontario. David Seed's fifty acre farm was in rural Adelaide. He along with his parents, siblings, and grandparents farmed a good chunk of Middlesex County during the late nineteenth century.
The Seed family was a hard-working group. Family members realized that they needed to pull their weight to help run a successful farm.  Lottie could have been expected to work alongside her mother, Mary and siblings taking responsibility for the daily chores which were required to run a household.
A Dreadful Discovery
At the age of twenty-two, Lottie met and married Floyd Hiram Pepper from Pettysville, Michigan. Floyd was well spoken, intelligent, and emulous. His quick wit and personable attitude helped to achieve his driven goals for success. While Floyd was the charming extrovert, Lottie was the exact opposite. As described by her grandson, Evan Harold Pepper, "Lottie was a small, soft-spoken, timid woman, who was abused by neglect."
Floyd was also known for having a roving eye toward the ladies. He was not particularly discrete about his affairs which certainly would have no doubt caused great distress for his wife. I had also heard comments years ago from my grandmother, Inez Somers Pepper that Lottie had been committed to a mental asylum in London, Ontario shortly before her death. These facts I was aware of, but the unexplained newspaper article of Lottie's mysterious death was something that I felt should be explored further.
The headlines for Tuesday, September 1st, 1931 from the Border Cities Star read, "Mrs. Floyd Pepper Drowns in Detroit River. Body Found by Firemen. Discovery Made Shortly After She Disappeared From Home. Clothes on Bank. Identification Completed by Cousin Visiting." After reading this horrific story, I called my two remaining uncles in hopes they could shed some light on the death of their grandmother. Both uncles had previously heard rumors about her drowning, but could not add any additional information. This of course, only added to my determination to find out the truth of what really happened to Lottie on that fateful day.
The Search Begins
I began my family history story research by first seeking out the marriage record for Lottie Seed and Floyd Hiram Pepper. Fortunately, I knew their ages, places of birth, and residence at the time of their marriage. Using that information, I logged on to Family Research and went to their record search pilot site. After entering the name Floyd Pepper and Michigan for the location, I was rewarded with a copy of their original marriage record. The record revealed the marriage date as 29 Sept 1902.
With this information, I next searched the 1910 census records. I found Lottie, Floyd and their five children living in Detroit, Michigan along with Lottie's twenty two year old cousin, Olive Seed. After 1910, Lottie and Floyd have three more children and move to Essex County, Ontario. At this point, I find nothing out of the ordinary in Floyd and Lottie's lives; so what would cause my great-grandmother to end her life. Remembering the rumor that Lottie may have been committed to an insane asylum I decided to look into this further.
By working backward from her death I considered the later years of her life. Perhaps Lottie had spent time in a mental institute. If so, how could I obtain her hospital records? I then did a google custom search, "London, Ontario early 20th century mental hospital records" and was able to locate the site for the Archives of Ontario including psychiatric history. Here is the link to their website.
I couldn't believe my good luck. I clicked on the site's home page and followed the exhibits of how to obtain old medical and psychiatric records. Following their request, I wrote the archives explaining that I would like access to any psychiatric records or information on my great-grandmother, Lottie Seed Pepper. I received back a mediator's report explaining that they had found the records of the deceased and since they were older than thirty years, the archives would be able to disclose their personal information to me. Hallelujah!
My much-anticipated package finally arrived. It took approximately five weeks, but was certainly worth the wait. The archives sent me the entire case history including physical and mental examination reports, daily clinical charts, patient's history statements, admittance/ discharge records and correspondence between her doctors and family members. This was truly a gold mine.
As I began to read the case history of my great-grandmother, I experienced such a painful compassion for the woman I had never met. Lottie was truly a soul in agony. By reading her clinical chart it is documented that soon after she arrived at the hospital she tries to hang herself from her cell door with her nightgown.
When questioned by her doctor about her suicide attempt her response was, "I am sorry that I tried to hang myself because the nurses may have gotten in trouble." Her physician questioned her further about her past mental state, in which she replied, "I see devils all around, but don't hear voices. I am insane and have been in such a condition most of my life. I am depressed and want to die."
At one point during her hospital stay, Lottie's doctor believes that she may be getting well. This idea is quickly reversed as a letter she composes states that she wants to take the lives of her children and then destroy herself. Her doctor wrote in his report that the patient is very depressed and wants to die. She does not want to get well and would undoubtedly commit suicide at the first opportunity. The physician's analysis of her condition is recorded as: "The factor or factors which appear to have caused her present illness is post menopausal insanity of acute melancholic type."
After nearly nine months at the London Psychiatric Hospital, Lottie is deemed very much improved and ready for a trial on probation. On September 1st 1931, she is released from the hospital and taken home. On the final page of the clinical record dated Sept 2nd 1931, Dr. Lynch writes, "I noticed in last night's paper that the body of Mrs. Pepper had been found in the Detroit River. She had only been home about twenty-four hours when she apparently drowned herself. The newspaper report this morning states an autopsy did not reveal any water in her lungs."
A Break in the Case
This newly found information on Lottie was overwhelming. Playing armchair detective, I decided to look further into the case. Perhaps she had other family members who had mental illnesses? With this in mind, I signed on to http://www.ancestry.com to check death records on her parents and siblings. Ancestry.com has a very large collection of Ontario death records from 1869-1936, so I felt this was a good place to start. Unfortunately, Lottie's immediate family was not listed. Thinking that Michigan was very close to Windsor, Ontario I thought I should at least examine Michigan's death records.
I located the records that contains the death records for 1867-1897 and the other picks up where the other left off with 1897-1920. I scanned both sites looking for members of the Seed family and found her parents and one sibling listed. Her parent's records listed no signs of any mental illness, but her brother Truman was another story. Lottie's brother died in the Wayne County Asylum in 1902 at the age of fifteen. Cause of death was "Exhaustion from status epilepsy." So it appears that mental illness could run in her family.
In the final pages of information from the Ontario Archives there was a letter written to the London Psychiatric Hospital from Lottie's daughter explaining what happened in the finally hour of her mother's death. According to Beatrice Pepper that after her mother returned home she appeared depressed and requested to return to the hospital because she could not trust herself. Her family promised to drive her back the next morning and with this assurance she seemed content.
Lottie's children arranged sleeping quarters so that members of the family were scattered throughout the house in order to watch their mother's every move. Beatrice writes, "Early Tuesday morning I was aroused by the clicking of the door and immediately looked for Mother; her bed was empty and investigation showed she had left by way of the basement door. The entire family started searching and her bathrobe was discovered on the beach at the foot of the street, a half a block distance from the house."
The coroner's report revealed that Lottie's lungs contained very little water. He concluded that the shock of the water caused her lungs to contract, causing the lack of water in the lungs.
I have come to the conclusion that my great grandmother most likely suffered from schizophrenia and did commit suicide; but like any good detective I will try to find answers to further questions such as: why Lottie had a life insurance policy? Why wasn't her husband, Floyd not around after she came home from the hospital? Why did her younger cousin Olive spend so much time in the Pepper household? Perhaps, these missing pieces of the puzzle are of little importance, but to this amateur gumshoe the case is hardly closed.
I hope you enjoyed my family history story. If you liked this one, you will want to check out another interesting read on "The Music Man."