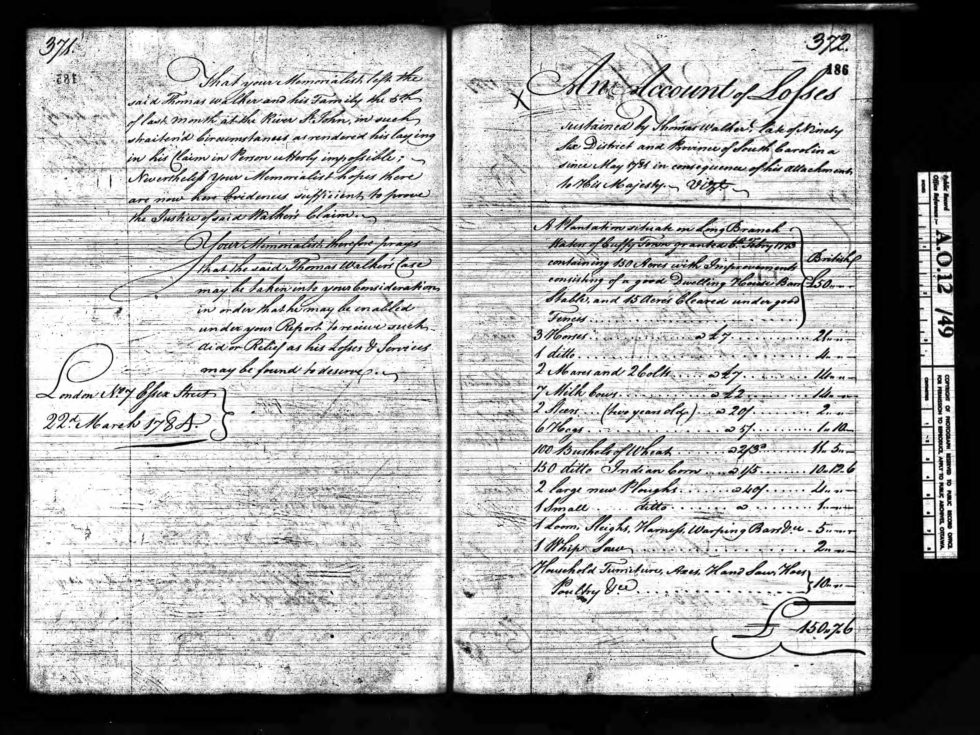 Passion For Genealogy is reader supported. When you use and buy through links on this site, we may earn an affiliate commission.
This is a true family research story on Thomas Walker, a rebel for a cause. I share some of my tips along this military genealogy journey.
Thomas Walker – Family Research Project
In one of my previous family research projects, I had investigated an 18th century ancestor and received my coveted membership into the Daughters of the American Revolution (DAR). As I began working on the Walker family line, I realized that not all colonists chose to join the Whig party and become Revolutionaries. There were many individuals who sympathized with the British and wanted no part of independence from their mother country. Their lives were content and they abhorred the idea of having to choose a side especially when it turned family, friends, and neighbors against one another. From my family research, I learned Thomas Walker was one such individual.
In 1771, Thomas Walker and his wife, Mary made a decision which would change their lives forever. As Irish citizens they were well aware of the predicaments of living in a country in which famine and disease never seemed to be far away. Nearly fifty years earlier, satirist, Jonathan Swift suggested to his readers in his biting satire, "A Modest Proposal" that the impoverished should sell their children to the rich to be eaten. This, according to Swift, was the answer to the problems of both political parties. Although this solution was "tongue- in -cheek" many Irish were fed-up with wealthy land barons and the high rents they were charged. Although Walker loved his country he realized that he did not want to beholden to a tyrant landlord for the rest of his life.
The state of South Carolina appeared to be the answer to many Ulster families. As early as the 1730's many Irish settled along the coastal regions of the Carolinas but further inland was still a wilderness. The state hoped to encourage more hard working immigrants to settle the back country where the Cherokee tribes continued to have conflicts with the settlers. With this in mind, the General Duty Act was passed by the General Assembly on July 25, 1761. The Act was fairly simple, to qualify the individual must not already claim bounty in the province, come from Great Britain or Ireland, produce a certificate under the seal of any corporation or a certificate from a Protestant minister claiming you were of good character, and settle within three years of arriving in the province. If you were above the age of twelve years you would receive two pounds sterling to apply to your passage. If you were under the age of twelve you would receive twenty shillings sterling. If you had money for passage the extra money given would be applied to supplies on arrival. Although the Act was modified in 1772, land was still being offered in South Carolina free of charge with the exception of paying fees to the General Surveyor, Deputy Surveyor, Governor, and the Secretary. The state of South Carolina advertised that the head of the household would receive 100 acres and any additional family members would receive 50 acres each. This was Walker's dream. Between him and Mary they would have 150 acres to call their own. Something he would never have fathomed.
Coming to America – Family Research Continues
Thomas and Mary arrived in America in 1772 and made their way to the 96th District in South Carolina. The District was created after a growth spurt in the back-country of South Carolina. The decision was made to divide the state into judicial districts. The 96th District was a large area encompassing the western part of the state. It was named after a milepost on a trail which was used by both Native Americans and traders in the area. The District began with a settlement post and expanded to include a stockade and a star shaped fort. The Walker's filed their claim for their 150 acres and was awarded the land on 06 Feb 1773. It was located at Long Branch on the waters of Cuffytown. According to the surveyed plot, there were two other Walker families bordering Thomas's land. Isabel Walker's land was 200 acres and Francis Walker had 100 acres. It is probable that all the Walkers were related in some way, but both Francis and Isabel received possession of their land several years earlier.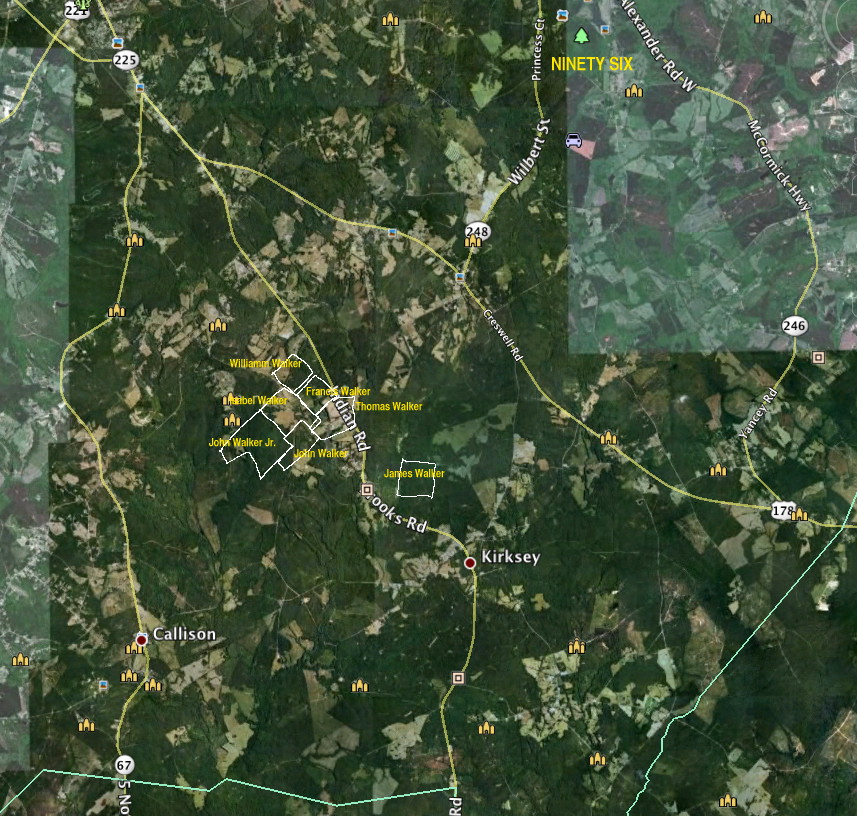 Walker and his family flourished in the warm climate of the Carolinas. They cleared their land and built a plantation which included a good dwelling house, barn, and stable. Forty five of the acres were under fences. They also had a goodly amount of farm stock including: four horses, two mares with two colts, seven milk cows, two steers, and six hogs. In addition, they were equipped with two large ploughs, one small plough, sleigh, whip saw, seed, and a loom. Their home was well stocked with furniture and other household items. Source: "UK, American Loyalist Claims, 1776-1835,". Along with the growth of the farm the family grew in size. The Walker family seemed truly blessed by their good fortune.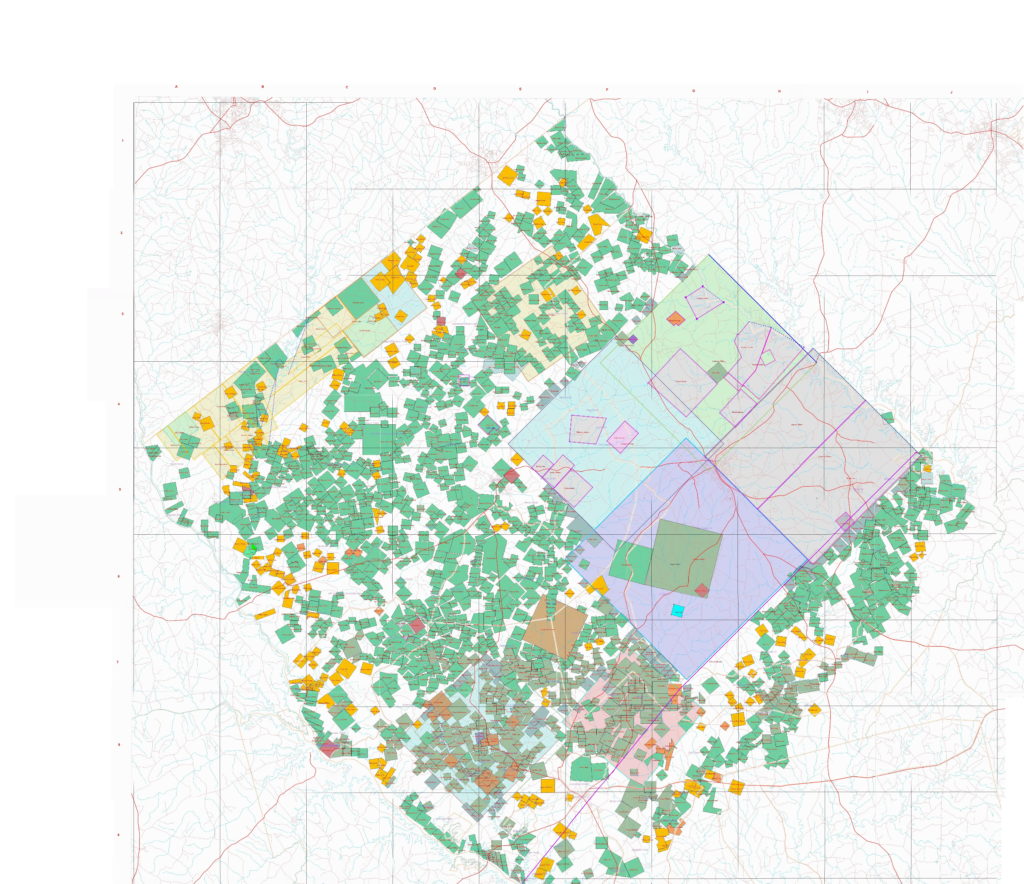 Troubles Begin
News of unrest in America reached Ireland before Walker made his decision to leave his country. It was unsettling to him, but his current concerns were of survival not rebellion for another nation. After receiving his land in the back-country of South Carolina he assured himself that he and his family would be far removed from any Tory or Rebel uprisings. He reasoned that unlike the large coastal plantation owners who were driven to join the Patriots, his existence in the wilderness of South Carolina was minuscule in comparison. He escaped the hardships of Ireland and wished to live in peace with no government interference. Walker like many individuals truly believed that the British would never give independence to the Colonies. He also felt a sense of loyalty to a government who made it possible for him to obtain lands so reasonably. As some of his friends and neighbors chose sides, he decided to hold out in proclaiming his loyalties to either party.
By 1779, the peaceful existence of the South Carolina back-country was gone. Rebels harassed the countryside for individuals who had not declared their fealty to their cause. Tories who chose to side with the King were subject to such cruelties as being tarred and feathered. Individuals who could not commit their loyalty to either the Rebels or the Tories were treated with disdain.
Charles Town
In May of 1780, the city of Charles Town surrendered to the British after a long drawn out siege. Among the victorious troops was the company, American Volunteers under the guidance of Capt. Patrick Ferguson of the 70th Regiment of Foot. Ferguson, a young Scottish officer was assigned the duty of aggressively recruiting loyalist militia throughout the back-country of South Carolina. A new ruling which stated that all able-bodied men between the ages of fifteen and sixty were required to serve in the militia "any Six Months of the Ensuing Twelve" or provide a substitute, made enlistment a requirement. Walker needed no further urging to join. His mind was made up. By continuing to remain neutral he and his family had suffered unduly. He joined Ferguson's militia and his name first appears in the Pay Abstract report for the Ninety Six Brigade beginning in June of 1780. Source: "Loyalists in the Southern Campaign of the Revolutionary War, Vol. 1." From the period of 1780 until 1783, he served under the command of both Patrick Ferguson and Colonel John Hamilton. It is unclear as to what battles he may have participated in but remarks made in his Loyalist Claim dated January 11, 1787, state the following:
"Saith he is a native of Ireland went to America 15 years ago, settled near Ninety Six District. Joined the British after Charles Town was taken. Joined Colonel Ferguson and Hamilton in the Militia. Went to Charles Town, went from thence to Halifax…." Source: "UK, American Loyalist Claims, 1776-1835."
Home Front
Shortly, after Walker's departure into the Tory militia, Mary and their children were attacked by Rebel Patriots. Their beloved farm was ram shackled and their processions stolen. Little was left for their survival. Word was sent to Walker informing him of his family's plight. Hasty plans were made for Mary and the children to make their way to Halifax. They were to meet Walker at a designated place near the St. John's River. It is uncertain to determinate if the family traveled to Halifax by foot. Many Loyalist civilians living in South Carolina traveled to New York City where they boarded a ship bound for Nova Scotia. In either case, the journey proved to be horrendous with sickness and death in abundance.
The Walker family reunited at the St. John's River, but the entire scene was in such dire straits that Walker was unable to personally file for his Loyalist claim. As a Loyalist he could claim the losses he incurred during and following the war. British colonies offered qualified refugees the opportunity to begin again by providing land and other supplies. As the Walkers had family and friends who had previously chosen New Brunswick as their new home they hoped that they would be fortunate enough to obtain land in that area. Colonel John Hamilton, a personal friend and old neighbor knew of the family's plight and applied for Walker's claim in his stead.
In Walker's Loyalist Claim, Colonel John Hamilton wrote:
"Sheweth, That the said Thomas Walker hath been personally known to your Memorialist these eight years and upwards, that he always supported an unblemished character, zealously attached to His Majesty and the British Government. That his exertions as a Private in your Memorialists Regiment of Militia were at all times used to promote the good of the Service. That in consequences thereof he became so obnoxious to those who were disaffected to the British Government that he was obliged to abandon a good living (well known to your Memorialist) and seek refuge within the British Lines. His Family were in a short time driven after him, deprived of every necessary except a part of their clothing. That your Memorialist left he said Thomas Walker and his Family the 5th of last month at the River St. John in such straitend'd circumstances as rendered his laying in his Claim in person utterly impossible…" Source: "UK, American Loyalist Claims, 1776-1835.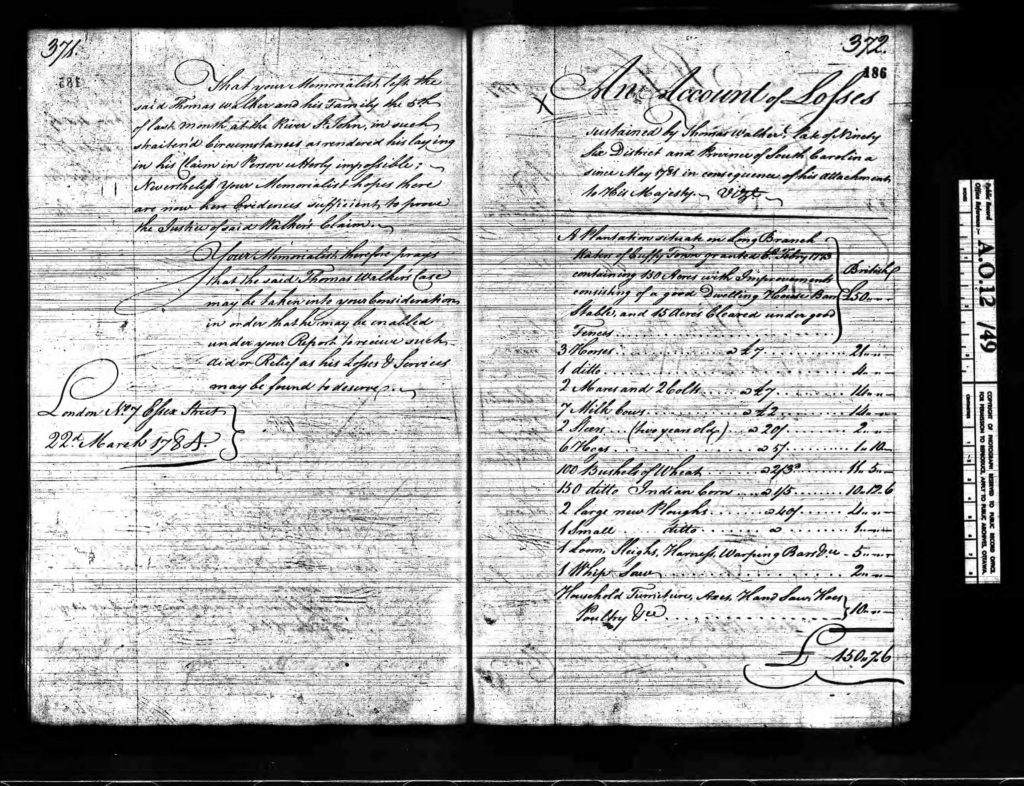 New Beginning
Walker received his land in New Brunswick, Canada. He was first granted a city lot in Parr Town in 1785 and in 1786, 200 acres on Belleisle Bay, Springfield Parish, in Kings County. The condition being that by receiving the land he was to become a bona fide settler. Like other Loyalists, Walker was cast out of his country to begin again on new unsettled lands, but this time he would be surrounded by like-minded individuals holding the same unity and loyalty to the British Empire.
Thomas Walker passed away between the years of 1814-1815. His will was probated November 25, 1815. The final papers were signed in May 1816; all of his six remaining children are listed as heirs. Mary Walker continued to live until her death with her son, William on Dickie Mountain, New Brunswick.
Walker was a true rebel. By rebelling against Irish tyranny he left his country to find peace and prosperity in America. By rebelling against the Patriots before and during the Revolutionary War he lost not only his possessions, but the loss of beloved family members. As he put down new roots in Canada he found the peace and life he was seeking. No more rebellion, Thomas Walker had come home.
Military Family Research Articles
I hope you enjoyed my family research on Thomas Walker. If you liked this genealogy military story, you may want to check out "The Unsung Hero of The Great War Military Research Story" article.
Sources for this Family Research Article:
http://www.archivesindex.sc.gov/onlinearchives
http://www.toriesfightingfortheking.com/ToryArmy.htm