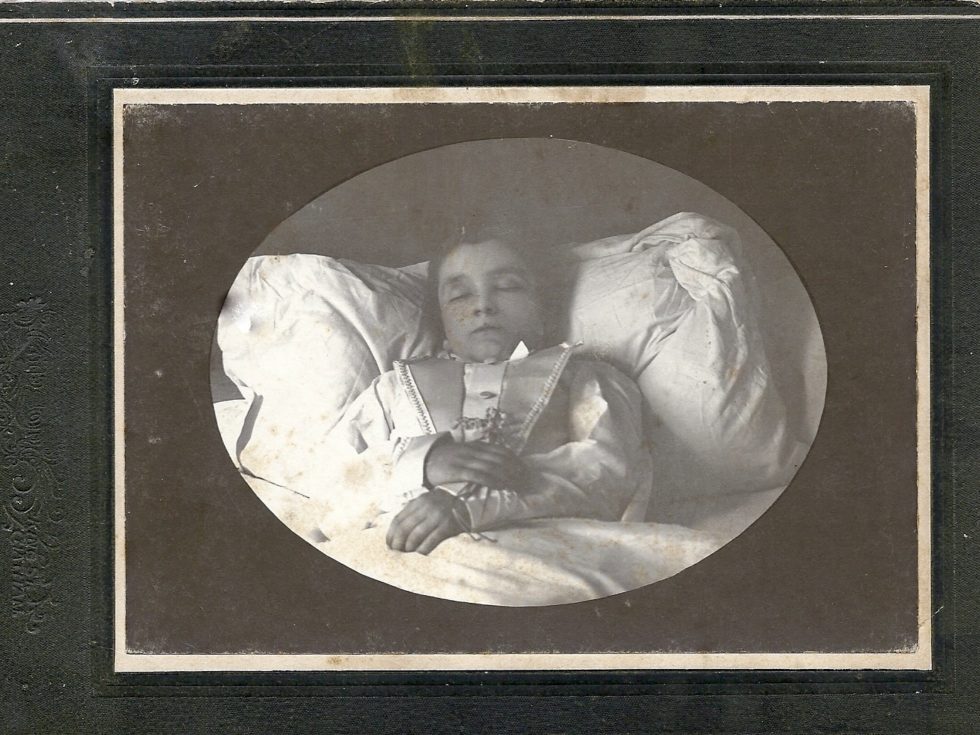 Passion For Genealogy is reader supported. When you use and buy through links on this site, we may earn an affiliate commission.
Looking for helpful tips on dating old photographs? It can be challenging to determine the age of a photo. This article will provide some of my best tools for understanding how to date old photographs in genealogy research.
IDENTIFYING YOUR ANCESTORS
As word gets around in the family that you are the record keeper, the family historian who thrives on genealogy and anything family related, the odds are pretty good that you may inherit some old family photographs. Hurray, you may think but as you begin sorting through them you realize that none of them are formally identified. Oh yes, there is the occasional picture that someone may have wrote a cute saying on the back. For instance, someone in my family wrote a caption of two young ladies as "two great beauties." Super, fine, great but who are these great beauties? No names given, so it will be up to you to sort out the mystery. This article will help you to date and identify your ancestors in old photographs.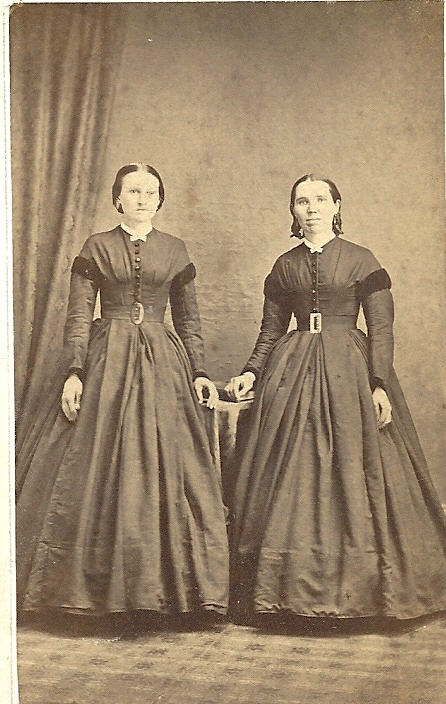 The first major clue of photo identification is the origin of the pictures.
What side of the family did they come from?
Are there any older family members living who could help with the identification?
This would be the time to make contact with them and set up an interview. If possible, meet with them in person and bring with you your genealogy work.
I have been using Family Tree Maker by Mackiev for years and overall, have been very happy with the software program. Using the program it is much easier to look up previously entered ancestors in hopes of matching pictures to names. It is also helpful to be able to make research notes as you interview.
THE RESEARCH INTERVIEW
As the interview progresses and you get caught up with the excitement of photo identification beware of giving out too much information as this may make the interviewee deciding to agree with you rather than sharing their own story. Also, sort out discrepancies such as birth/death dates on your own rather than disagree. Listen, make notes, then do your own research.
For instance, my grandmother was great on telling her version of family history. When she told me that we were related to the Sheriff Matt Dillon from the old television show "Gunsmoke" I had my misgivings. But as most family lore goes there is usually a bit of truth in it all. Turns out we were related to a Matt Dillon and he was Constable of Raleigh Township, near Chatham, Ontario in the late 19th century. Not sure if we can take credit for being related to famous sheriff of Dodge City. So overall, make notes, take photos, and ask plenty of questions.
In many cases there are no living relatives that would be able to share their knowledge of past family history. So, you need to put on your detective cap and find out what you can, to solve the secrets in the photographs. First of all, photography has not been around that long considering what great strides we have made. Beginning in 1839, "cased image photographs" caused a major sensation when our ancestors saw photos for the first time ever. Most everyone was enthused with obtaining a photo of their loved ones, but due to expense and availability early photography it was mainly for the well off. Daguerreotype had the honor of being the first photograph and shortly after newer improved types arrived on the scene.
CASED IMAGE PHOTOGRAPHS
The three main cased image photograph types are: daguerreotype, ambrotypes, and tintypes. Below is a condensed chart of some of their characteristics which may aid in helping to identify the time period of your cased photograph.
| | | |
| --- | --- | --- |
| Daguerreotype | Ambrotype | Tintype |
| Mirror like surface | Negative on glass | Negative on iron |
| Hold on angle to see | Backed w/dark background | Black metal background |
| Usually cased | Usually cased | Paper mat or case |
| 1839-1856 | 1854-1860 | 1856-1930's |
| Expensive | Less expensive | Inexpensive |
| Size-3.25" x 3.625" | 3.25"x 3.625" | 2.375"x 4" |
Cased Photograph Characteristics Chart
CARTES DE VISTE AND CABINET CARD
Photographs on cards became the rage beginning in the 1850's. The two major players in this category were the Cartes de Visite and the Cabinet Card. Both types of photography used a negative to create the image which was then adhered to card stock paper or cardboard. The Cartes de Visite arrived on the scene first with a common size of 2.5" x 4."
This smaller card was sometimes used as a calling-card photo. They were inexpensive to produce so they could be given out to family and friends easily. The larger Cabinet Card arrived in the 1860's and it size was normally at 4.25" x 6.5." It was very similar to the Cartes de Visite but larger and thicker as it used cardboard for a backing. Both photo cards changed in style over the years. Their versions went from rustic to elegant, borders vs no borders, thin to thick cards, and card color; yellow & pastels, natural, or gold & black.
Card sizes and thickness also varied over the years. All of these changes in the photographic card are important clues to the dating of your photograph. It is a good bet that the photographs you date belong to these two card style types.
PHOTOGRAPHY POSES
The next clue to look for in dating your photograph is the pose, that is posing for the picture. Now this may sound a little odd but posing in the professional setting varied in fashion over the years. In the early 1860's the head shot was popular. This pose consisted of the subject having their picture taken from a distance creating a fade away look. Thank goodness this didn't last, and by the 1870's the head and bust ruled the Cartes de Viste image. During the Civil War in the 1860's, the standing pose became popular for the soldier to show off their uniform. The single individual in a seated pose was waning in popularity by the mid 1870's. Couples began posing together with the man seated and the woman standing behind him. This popular position lasted into the early 20th century.
DATING OF OLD PHOTOGRAPHS THROUGH HAIR FASHION
Hair and fashion are major clues in dating photography. Our ancestors were no different than we are now. They wanted to wear the latest fashions and be up to date with hairstyles. Usually the young followed the styles more closely with experimenting with new hairdos. In the 1850's women's hair styles were quite severe with hair parted in the middle and pulled sharply back. By the Civil War, ten years later, the same hairdos were more relaxed as women became more independent due to taking on additional duties.
With the invention of the curling iron in 1866, a new kind of curl was adopted over the sausage curls of the past and by the 1870's the simple parted in the middle hair style was disappearing. Hair was worn up-swept and piled high. Curls were also added for a softer look. Men also were into the fashion scene with their clothing and hairstyles. Men's beards and facial hair varied over the years. In the 1850's-60's, men were more hairy by sporting mutton chops, beards, and heavy sideburns. By the 1870's, men styles commanded a cleaner facial look with more mustaches and less facial hair.
CLOTHING IN PHOTOGRAPHY
Clothing in photography is another critical tool in dating pictures, but you need to be so careful into jumping to conclusions.
During the years of 1830-1878, a women's fashion magazine Godey's Lady's Book advised women on how to fashionably dress for all occasions, but many women could not afford to follow their suggestions. Many a hat or dress was made over and worn again in a photo shoot, not keeping totally with the latest fashion.
Clothing also may vary in different parts of the country. For instance, a middle aged woman living in New York City in the 1880's may be at the height of fashion with her up-swept hair, a blouse with 16 closely spaced buttons and her stylish bustle. But, the woman of the same age living in the Midwest may have to wear a dress that she made herself ten years previously. Overall, clothing and hairstyles changed as frequently as they do today.
RECOMMEND PHOTOGRAPHY BOOKS
A few of my favorite go-to books for costume and hairstyle identification are listed below. These excellent books give outstanding examples of fashion in the 19th and early 20th century. You can find them on Amazon at the links provided. Here is also a link to my top picks for Genealogy Research Books.
Dressed for the Photographer, Ordinary Americans and Fashion, 1840-1900 by Joan Severa.
Family Photo Detective by Maureen A Taylor
19th Century Card Photos KwikGuide by Gary W Clark
Unlocking the Secrets in Old Photographs by Karen Frisch-Ripley
Dating Old Photographs Clues
In pictures, there are many clues to discovering that elusive ancestor. Photography in the 19th century especially was used for a purpose. The purpose may be a special event such as a marriage or a death. In other cases such as a war, people wanted a photo of their loved ones as they went into battle or stayed on the Home-front. It was common to photograph the dead as that may be the only remembrance the family may have of that individual. I was surprised to find a cabinet card photo of one of my young relations looking as though he was sleeping in bed. It turned out that he had drowned and his parents wanted a picture of him before his burial.
Live backdrops in photography can also be a big help. For instance, if a photograph is taken in front of a home someone may recognize the house or it may have an address on the building which could help with a location. I was able to date a photograph in the early 20th century because a brand new Model T Ford was parked near a cemetery in the picture. After researching the car and zooming into the cemetery headstones I was able to locate who the person was and the location of the cemetery. Look closely at every detail in the picture. Another example, I have is of a gentleman in a photo holding a newspaper. With a magnifying glass I was able to pick up the date on the newspaper. So you never know what you might discover by really looking.
Overall, being able to identify and date your old family photos is such a fulfilling experience. Your genealogy work becomes more fleshed out with real people's faces. Ancestors become more real and you might even see yourself in one of those faces.